Over the past few weeks, we've talked about the basics of vendor management, common outsourcing challenges, and strategic reasons why multiple vendor outsourcing is a smart business initiative.
We've also gone over vendor selection and how to design a framework that enables long-term collaboration, with an inside look into the way TJIP manages multi-vendor outsourcing. See also our case study in SlideShare.
To better showcase our way of working and the benefits of outsourcing, we're going to take a closer look at one of our recent projects in the banking sector. Although the client's identity and the name of the project are not disclosed, the case study will cover all essential aspects involved in making this project successful.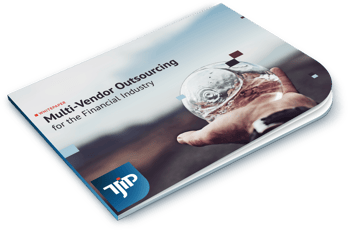 The client's challenges
For this particular project, the customer had embarked on a challenging program to optimize the entire mortgage chain throughout the corporate landscape. This was primarily a cost-saving operation. The client was aiming to drive down the costs of sales and service processes for private mortgages, by means of product rationalization (having fewer diverse mortgage products in the portfolio with fewer variations in terms and conditions) and IT optimization. The second focus of this project was on customer excellence.
When they approached us, the client had a low NPS score for retail customers, especially in the mortgages field. Our solution was to provide end customers with improved IT products (i.e. self-service portals, optimized for mobile use), in order to drive customer satisfaction. We realized that having optimized IT products made it easier for bank employees to better inform and assist customers who still would like to make use of the managed channel (telephone service center, local bank branches). Our solution made it possible to serve more customers through the online channel.

Our solutions
Given the fact that TJIP was already the vendor for the daily management and planning system for the bank's mortgage advisors/financial planners, it was easier for us to identify specific solutions to the IT challenges brought on by this project. We implemented several specific solutions:
A series of mortgage widgets for the internet banking system for end customers. Customers could use these widgets to view their mortgage data, issue additional repayments and change their interest rates.
A lead generation marketing app for the bank's website (open domain) that enabled prospects to do a preliminary mortgage calculation (How much can I lend/what will be my monthly expenses?).
An application that supports the sales process of new mortgages. This required the repositioning of the existing application for mortgage advisors/financial planners. The sales application enables customers, mortgage advisors/financial planners in bank branches, and credit approval/credit specialists in the mid office to work together interactively, to serve the customer better and faster.

Project outcomes
While the project is still ongoing, with further functionality to be developed by the end of 2017, we consider it to be a successful project for which the planned milestones were achieved and client requirements were met.
As a result of the solutions implemented so far, the client experienced a sudden increase in market interest regarding interest rate averaging and the Mortgage Credit Directive. Both new requirements forced the project to shift its focus to this new functionality. This flexibility was supported very well by the new agile way of working with the client and the Scrum approach used by TJIP, Dilato and Maxcode. The project is now a good case practice for successful agile project management.

Our collaboration with Dilato and Maxcode
As the primary vendor, TJIP organized the implementation of this project together with the client following agile principles. Our collaboration model has been constantly improving over the past year and has proven to be very successful.
Within the scrum teams a close cooperation between TJIP, Dilato and Maxcode has been achieved, through a clear division of work. Software like Microsoft Team Foundation Server, GoToMeeting, and conference call tools facilitated remote collaboration and helped create synergy. The long term partnership allowed everyone to get the required domain knowledge needed, given the limited up-front-designs specific to the agile way of working.
Based on sprints of 2 weeks, we were able to deliver a steady flow of requirements to TJIP, and high quality working software to our client, on a bi-weekly basis. Testing and documentation is in the definition of done and as such an integral part of the delivered software. The number of defects found by the client has been remarkably low, which points to the successful cooperation between TJIP, Dilato and Maxcode.

Maxcode's role
As part of the repositioning of the application for mortgage advisors/financial planners, a lot of technical debt had to be removed. Moreover, the application architecture had to be transformed from a monolith into a service-oriented application.
As these topics are rather technical and less focused on business functionality, it is hard to find business ownership on the customer side (who is more functionally inclined than technically). Maxcode contributed with a dedicated scrum team to work on these technical topics.
Together with a product owner from TJIP, they have independently future-proofed the application for its new position in the application landscape/architecture.

Dilato's role
All the products that Tjip develops were tested by Dilato. Every new feature was taken through various stages of testing before being included in the nightly regression tests. These regression tests build up the quality of the future product, as they ensure new development will always be backwards compatible. They also serve as living documentation, which in any financial project is important when due diligence is required. Dilato also plays an important role in managing production incidents as well as defects found in the acceptance stage testing.
For this particular client, Dilato started by developing automation scripts for one of the legacy applications. One of the biggest challenges that this project brought on was domain knowledge: what rules govern mortgages in the Netherlands & what business logic is behind various calculations? Dilato and Tjip shared this challenge, and, to overcome it, everybody started writing their documentation and e-mails in English, CC-ing the entire team. At the same time, the QA team continued to receive help from the development team and the information analysts which were experienced in the field.
For us, the benefits of multi-vendor outsourcing are clear. We have created a way of managing all the moving parts efficiently, allowing us to deliver high-quality products to our clients.
If you'd like to find out more about TJIP's outsourcing operating framework, download our Case Study On Multi-Vendor Outsourcing For The Financial Industry.