I think many of us struggle on a day-to-day basis with different aspects of managing our finances, whether it's insurance, banking or new technologies. For us, these challenges and their solutions make total sense but we almost never get a chance to convey them to the companies who designed those products. And it's for this reason that I think it's important for both parties to open conversations into what we expect from each other and how we can improve things. It's actually the main reason behind this series of Internet of Me, where I explore different trends and topics and see how they compare against real-life consumer behavior.
Today's selected topic is mobile banking, perhaps one of the most popular aspects of today's digitalization of banking products. Our smartphones have become an extension of ourselves that we use to perform so many of our daily tasks. This small device in our pockets helps us research, compare, apply for, transact, and engage with all your banking products and services in a simple, seamless, and sometimes surprising way.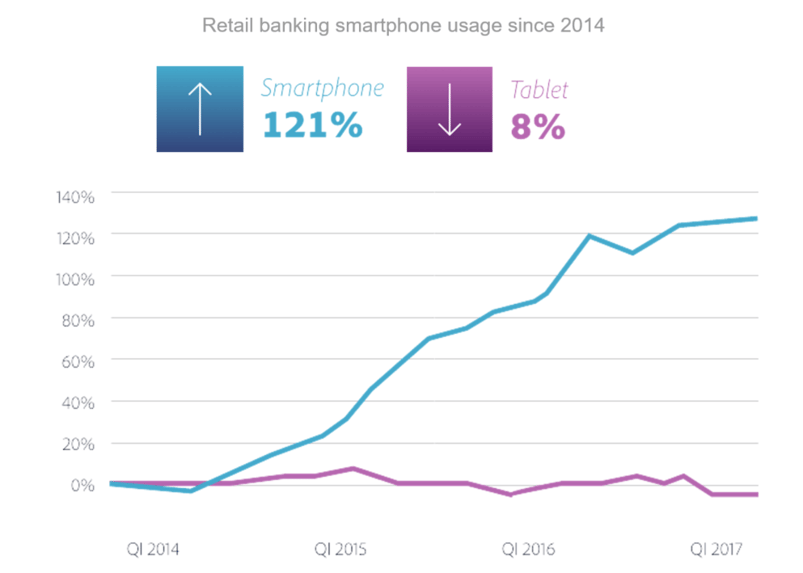 Data from Adobe's Mobile Maturity Study via
It's being referred to as "the mobile imperative" and financial institutions of every caliber are expected to demonstrate readiness and innovation to make this into a reality for every customer. The price of not doing is steep. According to this report on "Transforming the Mobile Customer Experience" from V12 Data, after a bad mobile experience, 85 percent of consumers are unlikely to do business with a company again. That's an unthinkable percentage.
Most banks I know are already adapting to this new mobile reality by allowing their customers to pay bills, deposit checks, and transfer funds via mobile. But there are still many things missing. Many functionalities that we expect in order to manage our day-to-day lives using our smartphones. I'm going to list some of the ones that would make me use (and enjoy using) my mobile banking app every single day.


Shared Accounts
Shared, not joint, accounts are one of the must-have functionalities for mobile banking users today. Be it roomates, partners, spouses, most people share their living space and expenses with at least one other person. This younger generation of customers want to be able to collaborate on finances with others, but they aren't interested in traditional joint checking accounts, like those typically used by married spouses.
In London, investors have recently put more than 1 billion pounds ($1.28 billion) into "microflats", where residents share facilities such as dining areas, lounges, work spaces, laundry rooms and gyms. This new trend of co-living is especially popular among Millennials looking to reduce their living costs or who simply cannot afford to live alone. In the US, more than 20% of millennials lived with a roommate as of 2015, a study by Trulia found.
"Young people today are increasingly living with a roommate — whether it's their parents, siblings, other relatives or friends."
Ralph McLaughlin, chief economist at Trulia
Splitting everyday expenses – like groceries, lunch, household improvements, or paying a friend back for a car ride - is a part of my everyday life as well. I need to be able to have an overview of these shared finances in the context of my personal balance, all in one app.
Picking up on this behavioral need, online bank Simple has announced earlier this year the launch of their 'Shared account' feature which apparently was one of the company's most-requested features since it first launched. A great initiative that I think all banks should consider implementing.


Automatic Savings
I've never been exceptionally good at saving money. I realize the importance of it and I do have every intention of saving money but somehow it just never happens. I forget to transfer the money, I go on a sudden trip or find a great deal on a tech gadget and another month has gone by. For me, automatic saving is a real need when it comes to my banking app. And I am not alone. Almost a third of Europeans have no savings at all and given the low returns they earn, many are choosing to spend their money rather than set it aside for a rainy day. ING's international study on saving and spending habits for 2017 shows that 29% of European have no savings at all. Of those that do, 36% have the equivalent of only three months' pay or less stockpiled, leaving them vulnerable in the event of a financial emergency.
Automatic savings can take different forms. One method I've heard being used is rounding up every transaction amount to the nearest euro/dollar and transferring the round up to a savings account. Some banks take this change and invest it in a mix of low-cost, exchange-traded funds (ETFs). I'm a fan of a simpler way of saving money - automatic, scheduled transfers. I want to have a recurring monthly transfer from my personal account to my savings account, which I can access and edit at any time on my mobile app. Simple but effective.
Unless you give me a fun bot. Something like Chip's automated savings bot that comes with a GIF-filled interface. This bot analyses a user's spending behaviour and quietly saves small amounts every few days when the spending is below average. The app employs a conversational interface to let users edit the bot's behaviour and make manual savings and withdrawals.


Tracking Spending
This should really come as no surprise. Me and my fellow Millennials want a clear view of our financial situation. We love apps such as Mint, LearnVest and Venmo. But what we'd love even more is to track our spending within our banking app. I mean, having three apps that are great on their own but can't really give us a clear financial status when we want it is not ideal.
I want my mobile banking app to be able to scan my paper receipt and translate it into a simple visualisation of the exact things I bought, categorized, and indexed to reflect the current state of my personal account. Rather than seeing a €32 transaction on my account, I want it to say 3 lightbulbs and a sandwich. Most apps today just display the amount of payments made. That's just not enough anymore. I can't really budget without having the full picture of how much I spend each month on bills, groceries and pet food.


ATM and Branch Locator
Even though I am a digital customer, I still go to the bank every now and then, if I want to conduct more detailed or sensitive operations. I also need to use the ATM quite frequently, when I'm on the move and I have to make a deposit, for example.
The problem is I never know where the closest ATM or branch is. Why can't I use this portable computer in my pocket to find it quicker? This is one of my most frequent challenges. Don't rely on Google to index your locations and working hours. I am your client, give me this information in my mobile app.
Using my current GPS location, the app should give me a quick result of the closest ATM or branch, along with vital information such as "Is the ATM out of order? / Does that ATM accept deposits?" etc.


A Personalized Account View
You know what would really be great? If I could customize my dashboard. For me, it would be great to have a list of my most frequent financial actions immediately after I login, as part of my general dashboard. As much as you try to create a universally-liked app, people are always going to prefer personalization.That's because we have it in every other digital aspect of our lives and we've come to expect it everywhere, even in our banking app. Some prefer to see six items on their dashboard while others only need two.
Try thinking like a marketer when designing functionality and focus on "what can I do for you?" instead of "what do you want to do?". To create a personalized experience, you'll need to focus on user experience and content. Design with clarity, flexibility and customization in mind.


Mobile Payments
I feel like digital payments are a missed opportunity for many financial institution. A 2017 report by Allied Market Research shows that the global mobile payments market is estimated to reach nearly $3.4 trillion by 2022, with a compound annual growth rate of 33.4 percent from 2016 to 2022.
Payment friction is another daily struggle for consumers such as myself. I want to pay using Apple Pay, Samsung Pay, Android Pay, Microsoft Wallet, and other wallets. But I want to have everything integrated in my banking app so that it connects to my budget, my spending habits and my overall financial management.
According to LoopVentures analyst Gene Munster, 2,091 companies globally accept Apple Pay as of March 2017, up from 1,439 in July 2016. These institutions are based in the U.S, Canada, France, Ireland, Spain, Russia, Switzerland, the U.K., Australia, mainland China, Taiwan, Hong Kong, Japan, New Zealand and Singapore. This is great news that I hope will inspire many more financial institutions to follow suit.


Great Customer Service
As a digital consumer, I value convenience and good customer service when it comes to the technology I use. I want to be able to get help from a personal banker quickly, or set up an appointment with a financial advisor in under two minutes. Give me FAQ's, video tutorials and smart chatbots.
When you're designing your customer journey, make sure you put the customer at the center of it and not the financial institution. It's now about what you can tell us but what we need to know. This is closely linked to the degree of personalization you can offer and how well you manage customer data.
"All banks must prioritize UX, design thinking and experience architecture to compete for the future right now. This is a trend that's only going to advance."
– Brian Solis, Principal Analyst for the Altimeter Group via


Bottom-line
These are just some of the aspects that I've found to be vital to a great mobile experience when it comes to my personal banking.There are many more customers like me out there, trying their best to stay loyal to their current bank and use their products and services to their maximum potential, but we can't do that if they don't evolve with us. If I were to use my banking app every single day, it should include all these functions and more.
Mobile is a no longer new, exciting or scary. It it simply implied. And it is not a standalone channel. The success of digitalization in banking depends largely on the way that mobile integrates with all the other channels to create a seamless experience for customers. Personalization, reducing friction, convenience and great customer support are key elements of the banking experience I and my fellow consumers want to have.