The promise of big data has been a driver of change in many industries, including one of the most complex ones, healthcare. With approximately 328 million devices being connected to the Internet each month, we're able to gather mountains of healthcare data. But with this breakthrough come challenges related to centralizing, analyzing, protecting and ultimately using this information to prevent and cure disease.
Data has become an intrinsic part of the healthcare ecosystem, influencing everything from medical research to ongoing care, the patient experience and daily life. We have wearables that can monitor our habits, online tools for diagnostics, telemedicine apps and even genetic sequencing services. All this data comes with the promise of helping doctors build better patient profiles and predictive models to more effectively anticipate, diagnose and treat disease. If we can use it properly, that is.
Owning our healthcare data
We're part of a generation of empowered patients who are taking increasing ownership of their health beyond the walls of a doctor's office. We use wearables and sensors that are integrated in our clothes and our accessories to track our lifestyle, fitness leves, eating and sleeping habits, and to monitor our heart rate.
According to a report by the IHS, the global market for wearable tech is expected to rise to 210 million unit shipments and $30 billion in revenue by 2018. Fitness bands are the new MP3 players and everyone wants one.
But beyond the obvious hype and people who forget these devices in a drawer somewhere after the first month, there truly is a revolution in the way we engage with our own health. We've become more concerned with what we eat, how we exercise, how our life choices impact our wellbeing because we're connected 24/7. Our phones, our laptops and our smart fitness bands enable us to do all these things.
Just last week, Apple, in collaboration with Stanford Medicine, released a watchOS app that will allow Apple Watch to track irregular heart rhythms. When the device identifies an irregular heart rhythm, participants receive a notification on their Apple Watch and iPhone, as well as a free consultation with a study doctor and an electrocardiogram (ECG) patch for additional monitoring.
The question is how do we process the data? How do we analyze it and use it to build predictive models?
One of the challenges that comes with owning healthcare data is that it's siloed. These independent blocks of data don't come together in a unified platform that can gather the necessary cohort of medical studies and self-monitoring information to actually treat and predict diseases.
When we talk about data, we also talk about privacy and security. Perhaps some of us are willing to share our app data if we can contribute to relevant information that can help us treat ourselves and our family members from disease. But we're talking about companies, entire corporations and governments who need to protect patient data from incidents like the "WannaCry" malware attack in May 2017, which targeted the British National Health Service and medical device companies in the United States. With the European Union's General Data Protection Regulation (GDPR) coming into effect on 25 May next year, healthcare institutions will face even stricter rules over how personal data can be used.
"Healthcare data covers a lot of ground, from appointment data and patient letters to clinical records, radiology images, test results and other forms of data. These are processed by a huge variety of different systems. (...) There are specific rules in GDPR about using pseudonyms when private sensitive data is shared: the original data subject should be impossible to identify."
Andrew Rogoyski, VP Cybersecurity at CGI via
Doctors and researchers agree that sharing this data between the different systems can provide extremely useful insights, but there are strict security guidelines which make this very hard or even impossible. A balance needs to be reached between effectively sharing and protecting medical data before we can use healthcare data to truly revolutionize patient care.
Another issue is the sheer growth of data volumes along with the speed in which that data arrives. Many organizations are finding that traditional relational database technologies cannot handle these large volumes of data which often comes unstructured, in the form of images, documents, and telematics.
While efforts like Google's DeepMind Health initiative are moving forward to try and analyze swathes of medical data to improve the way in which diseases are diagnosed and treated, cutting edge technologies such as artificial intelligence deployments still remain at a minimum due to fear of the risks and consequences that could disrupt conventional healthcare service.


Improving the patient experience
When we talked about digital healthcare , we took a closer look at what a customer would expect from a healthcare provider. The short answer would be faster, more efficient and more personalized services.
Paper records should not be the norm anywhere. Instead, electronic medical records that can enable doctors faster access to patient information, test results, computerized drug management and patient reporting should be it.
Data is changing the way we can diagnose people. Algorithms with machine learning capabilities are proving as effective as or more effective than human diagnosticians. In a recent study conducted by Stanford Medicine, researchers found that algorithms can "match the performance of dermatologists" at detecting skin cancer.
Technologies such as genome sequencing, electronic medical records, and patient-reported health information are producing large amounts of data that can be used to produce models or concepts about physiological function or mechanisms of pathogenesis. We can look for markers of specific biological processes or therapeutic targets for specific diseases or patient types. If we can connect all the dots, you don't need to wait weeks or months to find out if you are at risk for a certain disease because all the data would be there already. All you would need to do is ask the question.
However, it's not that easy, yet. The dots are not connected, the data is unstructured and we need to figure out how to use this information. Many of the doctors who use electronic medical reports are complaining about the effectiveness of the user interface, as well as interoperability issues with their current systems. The way that the technology is currently designed makes it time consuming, as doctors spend more time with their devices than they do with their patients. In many instances, it seems billing is prioritized over patient care and the electronic record ends up as more of a tool for legal record-keeping than a means to truly improve the patient experience.
Infrastructure is another challenge. First, we need the right talent. We need specialists who can interpret the data and keep up with the developments in artificial intelligence and machine learning. Second, we need the right tools and systems. Very few healthcare providers have developed effective data management strategies, as research by Deloitte shows: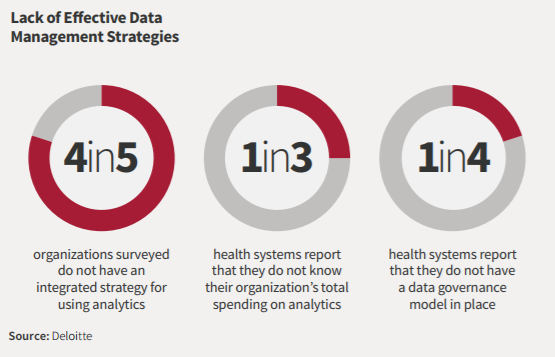 Managing the healthcare supply chain
The bulk of the patient experience will be determined by how a healthcare provider manages their supply chain. If you're in the hospital and they don't have the drugs you need or if you're in surgery and there is no available blood, it's no longer about the experience, it's about life and death. And data has the power to improve the entire process.
Accurate data is a foundation block for understanding procedure costs and its relationship to desired clinical outcomes. Healthcare providers can use it to make informed, agile decisions. In the context of a supply chain, the smallest improvements and adjustments can mean shorter manufacturing times, better access to drugs and cutting product obsolescence.
Real-time health data can be used by an analytics system to generate alerts or make quick decisions based on a set of algorithms. This would enable healthcare providers to have an overview of:
Early warning of delivery issues—Enabling changes to plans and finding alternates for delivery, production, distribution, and allocation.

Geo-fencing—Alerts that a vehicle is traveling outside the expected route, which may indicate a theft in progress or driver error.

Real-time Routing—The final destination for goods in transit (to deconsolidation) can be decided based on current/changing demand.

Store shelf replenishment—Using a combination of RFID and/or video, shelves are monitored to instruct store associates to restock them the moment they fall below certain levels.

Early warning of supply issues—Predicting supplier or supply chain failures


Conclusion
The power of data and its potential to fundamentally transform the future of healthcare is undeniable. It's very likely that in a couple of years healthcare data will enable doctors to build more accurate patient profiles and predictive models to more effectively anticipate, diagnose and treat some diseases.
But there's still a long road ahead before we can utilize all this data. Some of the challenges we face will take further disruptions, whether it's figuring out the right infrastructures, how to manage data sharing or supply chain analytics.