Consumers have always had the power to choose what they buy, where they buy it from or when. So what changed with the digital age? The prevailing answer to this seems to be "the way that they're buying". Also known as the path to purchase, consumer's buying behavior has transformed in a significant way to the point where it influences the way products are being developed and consumed. The empowered digital consumer is dictating when, where and how they are engaging with companies, and even how others should engage with brands by sheer influence. Based on their expectations, companies can either deliver and thrive or be left behind.
This power that the digital consumer holds is consolidated by an almost unlimited access to information, an ever growing choice of goods and services, and opportunities to make their choices known so that others may use them as reference. Let's put ourselves in the mind of the digital consumer for a moment: I want to buy an insurance policy for my car. But there are so many vendors that I know of, where do I start? I'm going to ask Google. As it turns out, the first page of Google has already offered 10 potential candidates. To narrow it down, I'll start looking at each company's offer. It turns out they're not all that different. I guess I'll look up some online reviews of existing customers to see if they've had any issues with these companies. Two hours of research, 20 websites visited and 40 reviews later, I think I have a winner. I go to their website and try to sign up for my online policy. I don't want to go over to their headquarter, I don't want to fill in 5 forms and I certainly don't want to put together a binder full of paperwork. I expect the signup process to take no more than 5 minutes and I download my insurance app to check my account whenever I want, wherever I want.

Buying online is the new buying. Just take a look at the percentage of e-commerce in total retail sales in the United States from 2010 to 2017, by quarter: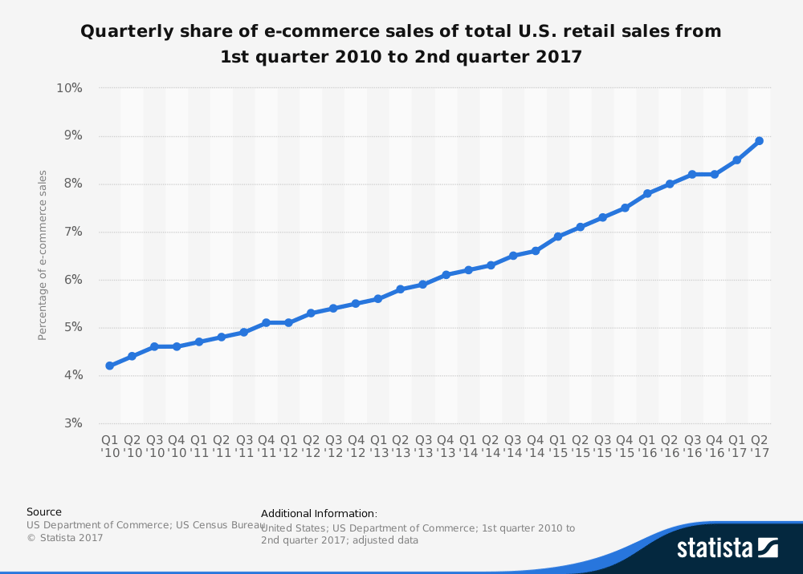 And these are the total retail e-commerce sales from 2017 to 2021: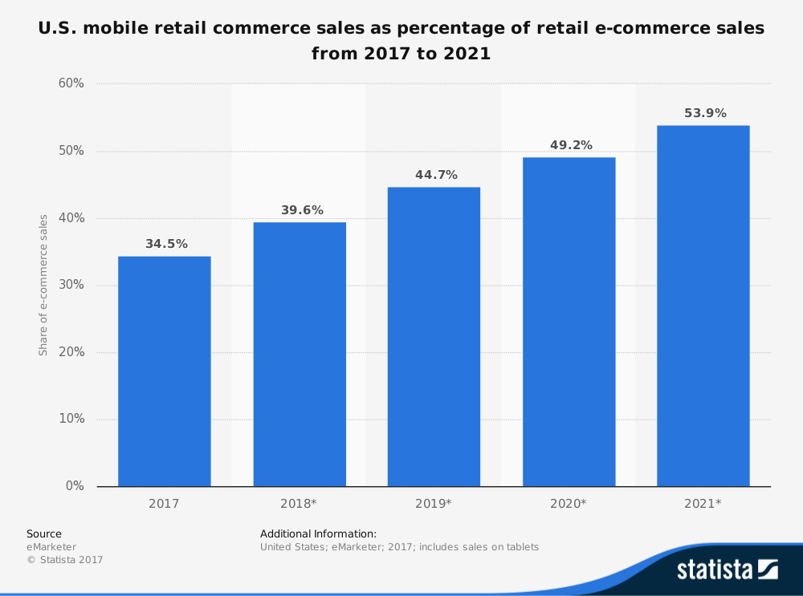 By 2021, 53.9 percent of all retail e-commerce is expected to be generated via m-commerce. What's interesting is that these numbers are probably not as surprising as you might have thought beforehand. We all shop online and we're all in a committed relationship with our smartphones. Almost 2.4bn people are using a smartphone in 2017, an increase of 10.8 per cent, according to eMarketer's latest forecast.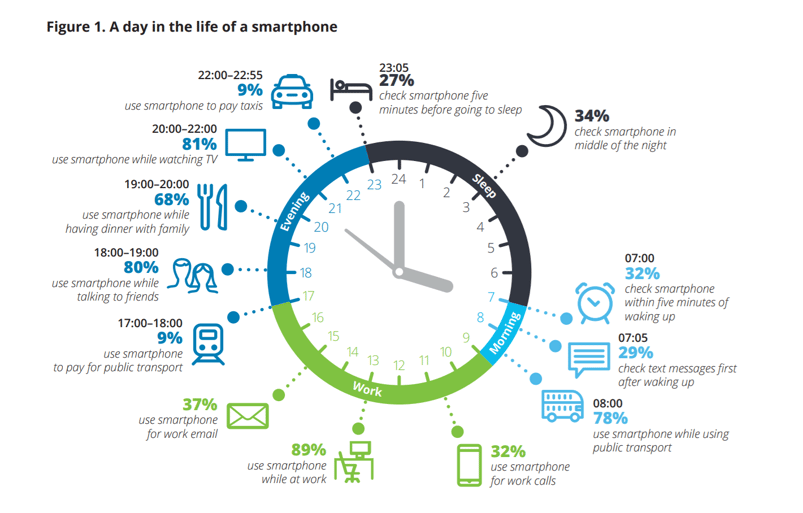 Source: Deloitte
Worldwide smartphone penetration will continue to increase, and by the end of 2018, more than a third of the global population is expected to be using a smartphone. Moreover, over 300 million of smartphones sold in 2017 have on-board neural machine learning capabilities, which makes them a combination of our best friend, robot companion, purchasing advisor that we have with us at all times. This begs the question: how are companies keeping up with this digital consumer's expectations?


Becoming a consumer-centric company
In our recent article on digital business models we discussed how companies can deliver value and anticipate a customer's next move instead of reacting to it by positioning themselves in customers' paths as they navigated the "decision journey" from consideration to purchase. We argue that the way to do that is by shaping the journeys customers take, leading, rather than following them along the path.
What that means, essentially, is that you have to identify every single consumer touch point and map it according to the corresponding part of your company. For example, your marketing team will be the responsible party for a consumer's initial research on a problem they're experiencing, to which you have the solution in the form of a product or service. To meet their expectations for this particular touch point, you'll need to listen to the consumer and use data and analytics to further understand their behavior. What type of content are they searching for? How are they expressing signs of a problem? How do they formulate that problem? What device are they using? What's the maximum number of seconds they're willing to wait for a page to load on your website?
Take a page from Amazon's book - in 2014 the company made a partnership with Twitter to drive instant shopping. The way it worked was that a user would link their two accounts and when they spotted a product they were interested in, they would add it to the linked Amazon account by hitting reply and typing #AmazonCart. This was a revolutionary step into making the buying journey as seamless as possible for a segment of their users who had a critical interaction point with Amazon products on Twitter.


Co-creating product and services
Aside from accessing and sharing information that helps drive buying decisions consumers also have the power to collectively impact the products and services they buy. LEGO is one of the companies that recognized this opportunity early on, when they created LEGO Ideas, an online community where members can discover creations by other fans and submit their own designs for new sets. Fans can vote on submissions and give feedback. If a project gets 10,000 votes, LEGO reviews the idea and picks a winner for an official LEGO Ideas set to be created and sold worldwide. The creator gives final product approval, earns a percentage of the sales and is recognized as the creator on all packaging and marketing.
DHL is another great example of meeting consumer expectations through co-creation. They created a test drone delivery service that only needs eight minutes, compared to standard mail-delivery vehicles that typically take half hour to deliver. The service, called Parcelcopter, was co-created and tested by community members. According to Forbes, DHL's co-creation efforts resulted in customer satisfaction scores rising to over 80 percent, on-time delivery performance increasing to 97 percent or higher and customer churn to decrease.
In order to remain competitive and relevant to consumers, businesses need to define strategies and structures that enable products and services to be created and delivered on the basis of real-time demand and traffic. Every touch point with the digital consumer offers unique insights into their expectations. If you use these opportunities to engage with them and help move them through the decision process, you'll be able to create trust and drive innovation. The intended result is to drive positive experiences that consumers will use for future purchases and share with their friends and family (their most trusted source when considering a purchase).


Leveraging the latest technologies
Accenture has recently released new research pointing to the impatient and increasingly demanding digital consumer. The study focuses on the emerging technologies that are slowly becoming an intrinsic part of consumers' lives. Technologies such as biometrics, machine learning, indoor navigation, smart cars and 5G. For the digital consumer, some of these are already an expectation when interacting with brands.
Let's take biometrics for example, notably fingerprinting. In 2017, the active base of fingerprint reader-equipped devices is expected to top 1 billion for the first time. The concept of fingerprint biometrics is not new. Potters from East Asia used to place their fingerprints on clay as it cured. Fingerprints were also used in the 19th century by criminologists for identification of habitual criminals. The first commercial applications used biometrics for controlling physical access to buildings. They are currently being used to reduce instances of fraud as well as to provide secured access to physical and logical assets.
One of the most recent applications of this technology is in the fintech industry. Costcutter has very just become the first supermarket in the world to offer payments using finger vein biometric technology. Shoppers paying for groceries at Brunel University in London can now pay using their fingerprint's unique vein pattern to identify themselves and make the transaction for their goods. The technology for this service was created by London authentication service provider Sthaler. There are already discussions with other supermarkets interested in using the technology. According to Sthaler, vein technology is the most secure version of identification out there because it cannot be copied or stolen
"The technology uses an infrared light to create a detailed map of the vein pattern in your finger. It requires the person to be alive, meaning in the unlikely event criminal hacks off someone's finger, it would not work. (...) It takes just one minute to sign up to the system initially and, after that, it takes just seconds to place your finger in a scanner each time you reach the supermarket checkout."
Via The Telegraph
This growing integration of technologies into our daily lives is transforming both the way consumers behave and how businesses need to operate. For TJIP this has meant going down the simplicity path. The challenge that we recognized in our consumer's' behaviors is that they struggle with processes and interfaces designed for companies instead of real users. That's why we decided to focus on the frontend side and make that as simple as possible, while integrating the new way of info flow in the business platforms that companies really need.
We can see a win-win between the simple actions provided for the user, and advanced processes and data management provided for companies. This leads us to a final piece of advice - take the time to understand and design these platforms right from the very beginning if you want them to scale and drive consumer engagement.