I use technology in almost everything I do. It's part of my work, my daily tasks and my personal management. For most products and services I use, digitization is definitely a nice-to-have that I feel offers a better experience. But there are some services which I feel should really embrace digital as a must. Healthcare, for example, is one of those industries.
While developments in medical research have had a revolutionary impact on healthcare over the last 30 years, the same cannot be said for the use of technology and data. My experience as a consumer has remained much as it was before the age of the Internet and of smartphones.



As a patient, I feel more vulnerable and more sensitive to ineffective communication, long waiting times, bad information management or lack of accessibility. When I'm in need of medical services, I'll usually have a good reason for it so I have to immediately look for the right doctor or the right information, without too much time for researching or experimenting. Because I rely on technology for my day-to-day activities and my work, I expect the same connected, quality services from all the other industries I interact with and healthcare is by no means an exception.
From apps for the management of chronic diseases to surgical robots, digital healthcare has the potential to make my life, and yours, longer and better. My expectations for this trend are better control over my choice of care, personalization of my healthcare plan and smart usage of health data. And I'll be going through each of these to see how they can be a reality in the next few years.


Give me control and personalization
I'm not a doctor, so I don't expect control over my diagnosis or my course of treatment. My goal is to have easier access to find the right doctor for the right need, to book an appointment, to have access to my medical records and be able to interact efficiently with my caretakers.
I want to play a more active role in managing my healthcare. Instead of waiting a few weeks to see my GP, then waiting a few more days for my medical test results and then still waiting a week more before being seen by a specialist, I'd like to be able to connect with my GP over a live call, have them do an assessment and instantly refer me to the right specialist. When I get there for my consult, I'd love it if the specialist has already consulted my medical history and has even received the data from my health wearable device.
In this data-driven world, I feel like the actual meeting with a doctor should have more meaning, having started from a baseline of information that I am providing every day, through the technology I use. I have sensors in my home, my wearable devices and my mobile phone. Before setting up a meeting, I think any physician should be able to run advanced data analytics designed to interpret this information about lifestyle, physical activities, social habits, adherence to medication regimes or sleep patterns and their health implications. The decisions they make would then be based on far more data than would otherwise be available. And all of this within the limited time available for consultation.
One example would be Nokia's Patient Care Platform. Its aim is to connect doctors and patients and they're already testing it in the U.S. and U.K., where the National Health Service is using it to monitor hypertension in a 69,000-person clinical program. The American Medical Group Association used it to see if patients who measure their own blood pressure are more likely to have success lowering it than those who don't. The software allowed doctors to see data from the Withings wireless blood pressure monitor. The way it works is that it allows health care providers to tap into patients' Health Mate app, so they can see data synced from their wireless blood pressure monitor and Body Cardio scale. All of the data is encrypted and you have to consent to share it with your doctor.
Apple's CareKit and ResearchKit initiatives have a similar goal, which is to help medical researchers and doctors see data from iOS apps. CareKit is actually an open source software framework provided by Apple to enable developers to build apps that help manage medical conditions. Similarly, ResearchKit's framework makes it easier to enroll participants and conduct healthcare studies.
When it comes to personalization, I expect my experience as a patient to be satisfactory, to say the least, like the experience I would have as a bank client or as a hotel guest. My healthcare plan should include digital channels that allow me to book appointments and pay bills, provide feedback and discuss treatment choices.
In the UK, some NHS hospitals are initiating real-time personalisation models that help patients make decisions about which emergency department to go to, triggered by live waiting times and car park space. Patient decision aids (PDAs) are another good example of personalisation in practice - one channel to help patients identify and express their preferences for treatment choices which they can share with their doctors.
Enable me to make the right health care choices by providing me with digital channels and real-time solutions that can make my life easier (and longer).


Use my health data to predict and treat
It's called The Internet of Medical Things or IoMT. A connected infrastructure of medical devices and software applications that can communicate with various healthcare IT systems. That's the ultimate goal and it looks something like this: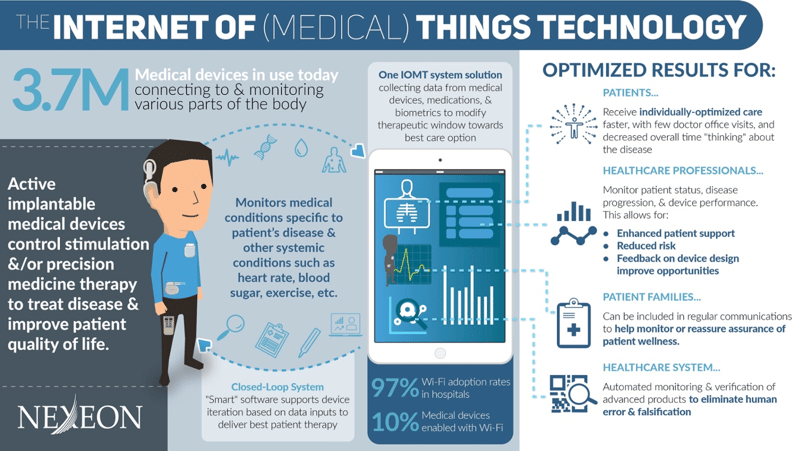 But we're not there yet. For now, we have mHealth, some instances of Artificial Intelligence and wearables.
Mobile phones and cloud access have been the top drivers of increased accessibility for patients and doctors. It's estimated that by 2018, 65% of interactions with healthcare facilities will occur by mobile devices. Some 80% of doctors already use smartphones and medical apps, with 72% accessing treatment information on smartphones on a regular basis.
In 2016 the global number of mHealth apps had already reached 259000 apps. Today, the healthcare mobile app development industry is one of the fastest growing and is expected to reach $26 billion in revenue by the end of this year.
So if I encounter one of the following needs or problems, all I have to do is download an app:
Chronic care management - there are apps for managing blood pressure, diabetes, cancer, mental health and other illnesses.

Medical diagnostic - an app will recognize my symptoms and tell me a probable diagnosis.

Healthcare and fitness - all I have to do is choose from the hundreds of nutrition apps, health-tracking, fitness and weight loss apps.

Women's health (not applicable but worth mentioning) - everything from pregnancy, fertility, breastfeeding apps etc.

Medication Management - loads of apps available to help me keep track of my medication.

Personal Health Records - I can use them to store my medical conditions data, allergies etc. and share it with my doctors.
Naturally, all these apps have to connect to an actual healthcare institution. If, for example, I diagnose myself with an ulcers, using an app, I'll immediately contact my doctor. My ideal process, however would be to have an app monitor my day-to-day activity and behavioral changes, so that when it notices any of the symptoms and gives me this diagnosis, an alert is immediately sent to my doctor who can corroborate it with my medical history and order a consult or a set of analyses.
If we're talking about wearables, you're probably familiar with popular fitness gadgets such as the Fitbit, Garmin or Samsung Gear. But there's a wide pool of wearables that goes far beyond tracking the number of steps you take. For example The Rapael Smart Glove. A wearable glove with an exoskeletal design that assists people who have had strokes, and other patients with neurological and musculoskeletal injuries regain mobility in their hands. Using a Bluetooth sensor, the glove measures the patient's motion through a 30-minute exercise, and creates an exercise schedule based on the patient's needs. The glove includes game software allowing patients to simulate playing ping pong, chopping food and catching a baseball, rewarding points to encourage engagement.
Or The LIVE by EarlySense, a remote monitoring device that monitors sleep and vital statistics for bedridden patients. The piezoelectric sensor disk plugs into an outlet and slides under a patient's mattress. Real time patient vitals are monitored through a mobile application, which can be supervised by caregivers and clinicians.
I believe the potential of wearables is much bigger than what we currently think. I think in the future we can expect smart clothing and accessories that will hold every possible piece of medical information we'd need. And it's a future I look forward to.
To process all this data from all these devices we need Artificial Intelligence. Machine-learning programs are already able to make diagnoses from scans and from test results. A recent project by Google-owned artificial-intelligence DeepMind has been looking into streaming and analyzing live health data and delivering alerts on an app that is carried around by doctors and nurses at the Royal Free Hospital in London. One application for the app was to identify the patients at greatest risk of a sudden and fatal loss of kidney function. The Royal Free says that the app is already saving nurses' time.
Virtual home assistants are another application of AI technology. They can help patients remember to take their medications, take notes and remind them about specific instructions from their doctors. Amazon Echo's Alexa is a great example. The virtual assistant can recite life-saving instructions about cardiopulmonary resuscitation, a skill taught to it by the American Heart Association. Alexa is accumulating other healthcare skills, too, such as acting as a companion for the elderly and answering questions about children's illnesses.
Ending thoughts
The current digital healthcare landscape is in somewhat of a disarray. On the one hand you have public health systems and institutions that deal with issues of funding, old systems and legislation. On the other hand you have commercial applications of healthcare apps that use mobile, wearables and AI. Then you have doctors and nurses who have to adapt to new ways of communicating, working and delivering patient care. And finally, you have me - the digital consumer, expecting the same level of digitalization and customer care as I would from any other service provider. Bringing all of these technologies and individuals together to provide a coherent and accessible healthcare experience is a huge challenge. The Internet of Medical Things will be one part of the solution but there are still many long steps to be made.
I believe that figuring out how these different systems and devices can exchange data and interpret the shared data will be key to providing the healthcare experience that we're all expecting. What do you think?